Do you want your Christmas engagement session to look as if it's out of a Hallmark film?
Then I have the inspiration for you! Matt and Marina's Christmas engagement session was merry and magical, but the Florida warmth made it simply perfect.
Have you ever seen a movie where the couple's storylines intertwine before the couple even meets? You're sitting there watching all the things leading up to the moment before they meet thinking "HOW HAVE YOU NOT MET YET?! DON'T YOU KNOW YOU'RE SUPPOSE TO BE TOGETHER!!"
That's how Matt and Marina's story begins.
Marina had a family friend who they let come over anytime to fish in their backyard. For years this friend would fish and occasionally he'd bring along his best friend. That best friend just happened to be Matt!
A few years down the road, they both attended a Thanksgiving street party. Imagine a high school reunion, but for all of their county.
Marina saw Matt making eyes at her from across the room, and finally, at the end of the night, he introduced himself while letting her know how often he's been fishing in her backyard. So what do we do after we meet someone at a party? We stalk them on Instagram of course!
Marina connected with Matt the day after the party and they hit it off instantaneously.
After the holidays, real-life settled in and Matt flew back to Puerto Rico where he was attending medical school and Marina went to New Zealand for an internship. Long-distance puts a strain on any relationship, but with that strain comes strength. Instead of coming straight home after her internship, Marina flew directly to Puerto Rico.
They confessed their love for one another and enjoyed a romantic week together.
Eventually, Matt was able to move back to Orlando and everything started to fall into place. For their one-year anniversary, they took a trip to the historic town of Saint Augustine to celebrate. While walking around and enjoying the Nights of Lights, Matt stopped Marina right in the center of the town, dropped to one knee, and popped the question.
Of course, she said yes!
For their Christmas engagement session, we took a trip back into Saint Augustine during the Nights of Lights.
They booked the same hotel they stayed in, had brunch in the same spot, and recreated every moment of that romantic night. It's amazing to see this come full circle and imagine what would have happened if their paths had crossed sooner.
A Christmas engagement session was such a magical time for these two. Watching them walk around under the lights and seeing their eyes sparkle with love was truly something special.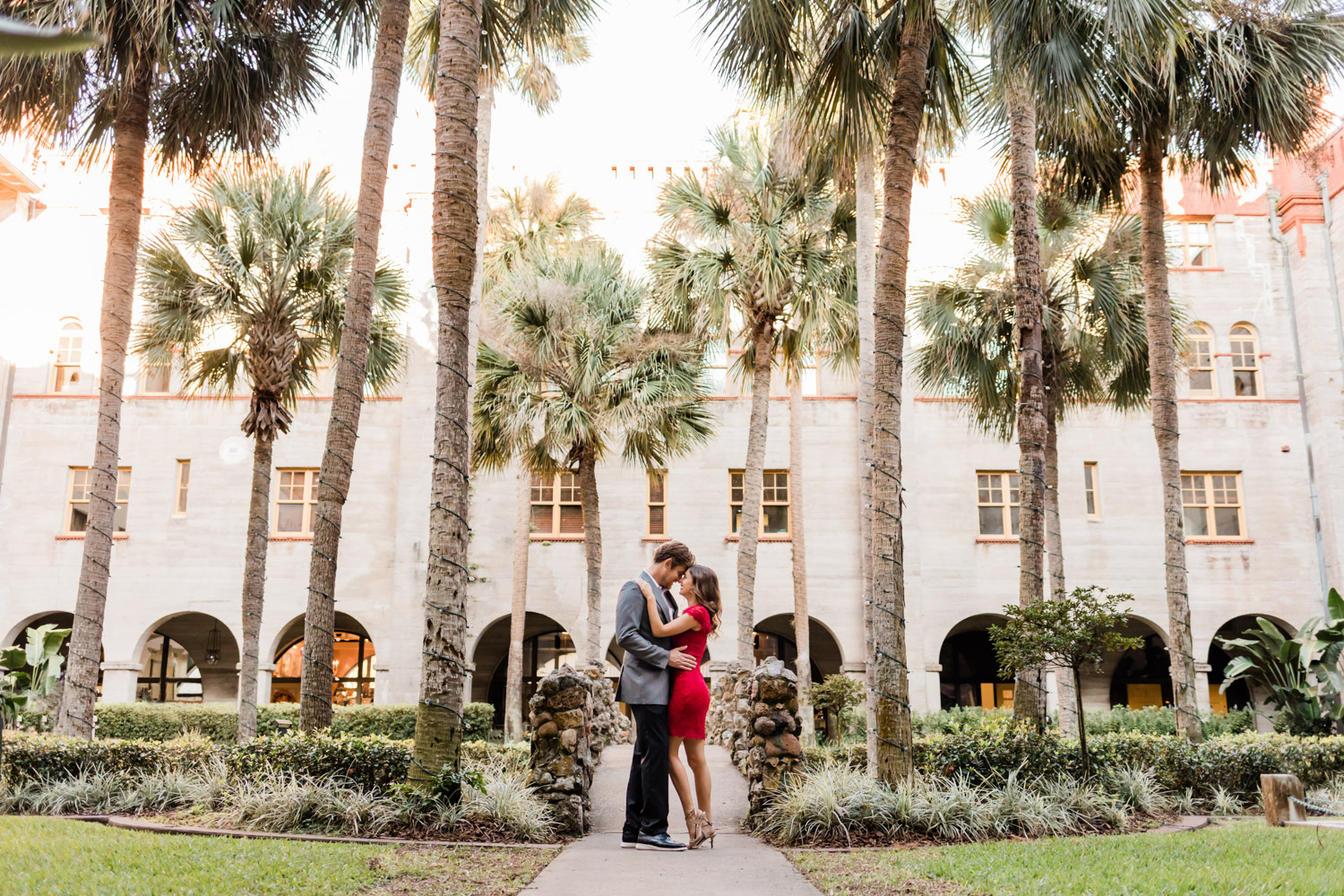 We start off their Christmas engagement session at the Ponce de León. Ths is one of the best spots in St. Augustine for engagement and wedding photos!
The dress that Marina chose for their Christmas engagement session actually belonged to her grandmother! What a beautiful and sentimental piece to wear.
Once the sun had set, we were able to take full advantage of the lights and decor for their Christmas engagement session!
Wondering what their wedding day looks like?
Check out their incredible Mansion Wedding in Paradise!