This whimsical mansion wedding is one that I truly hold dear to my heart.
For many Americans living on the East coast, Florida is one of the top destinations to choose from. Envision yourself sitting on the beach with coconut water in hand, it sounds like a perfect trip. What you may not realize is there is a lot of variety inside the sunshine state. From beaches to historic buildings beauty is everywhere! The Hacienda Del Sol is one of the most beautiful properties that Merritt Island has, making it the perfect place for a private mansion wedding.
While I grew up in Tennessee, Florida was always a second home to me, given that I had many family members living there. We would drive down there to visit with family. As a kid, I thought it was the coolest thing ever to visit a different state and meet that side of my family.
It was a huge surprise when my cousin Marina reached out to me after she got engaged.
I've shot countless weddings over the years and each one is special to me. I consider it a huge bonus when a family member tells me that they love my work. Knowing I got to be a part of such a big day in her life was something I looked forward to for months.
After spending time with them and photographing their engagement session, I simply knew that these two were meant to be. Matt simply couldn't keep his eyes off Marina, which can give you a glimpse into how they will be throughout the years of their marriage.
Before their big day, we spent Thanksgiving and Christmas with one another, all the time getting to know little details they had planned. Getting to know my couples on an intimately is key for photographing their wedding. Matt and Marina gave me a glimpse to see what truly mattered to them before their big day.
I knew their private mansion was going to be absolutely incredible, but I had no idea the endless memorable moments that were going to occur.
You'll want to be sure to stick around until the end of the blog post for a moment that will be engrained in every guest's head for life!
It was a gorgeous February morning in the sunshine state, and this mansion wedding was already off to a great start. The Hacienda Del Sol had beauty everywhere you turned. From the bougainvillea wrapping around the roof to the imported tile from Spain and Italy, every aspect of this venue shined with beauty.
Matt and Marina got ready with their closest friends and family on opposite sides of the mansion, shared a first touch, a romantic canalside ceremony, and had one of the most incredible receptions I've ever seen!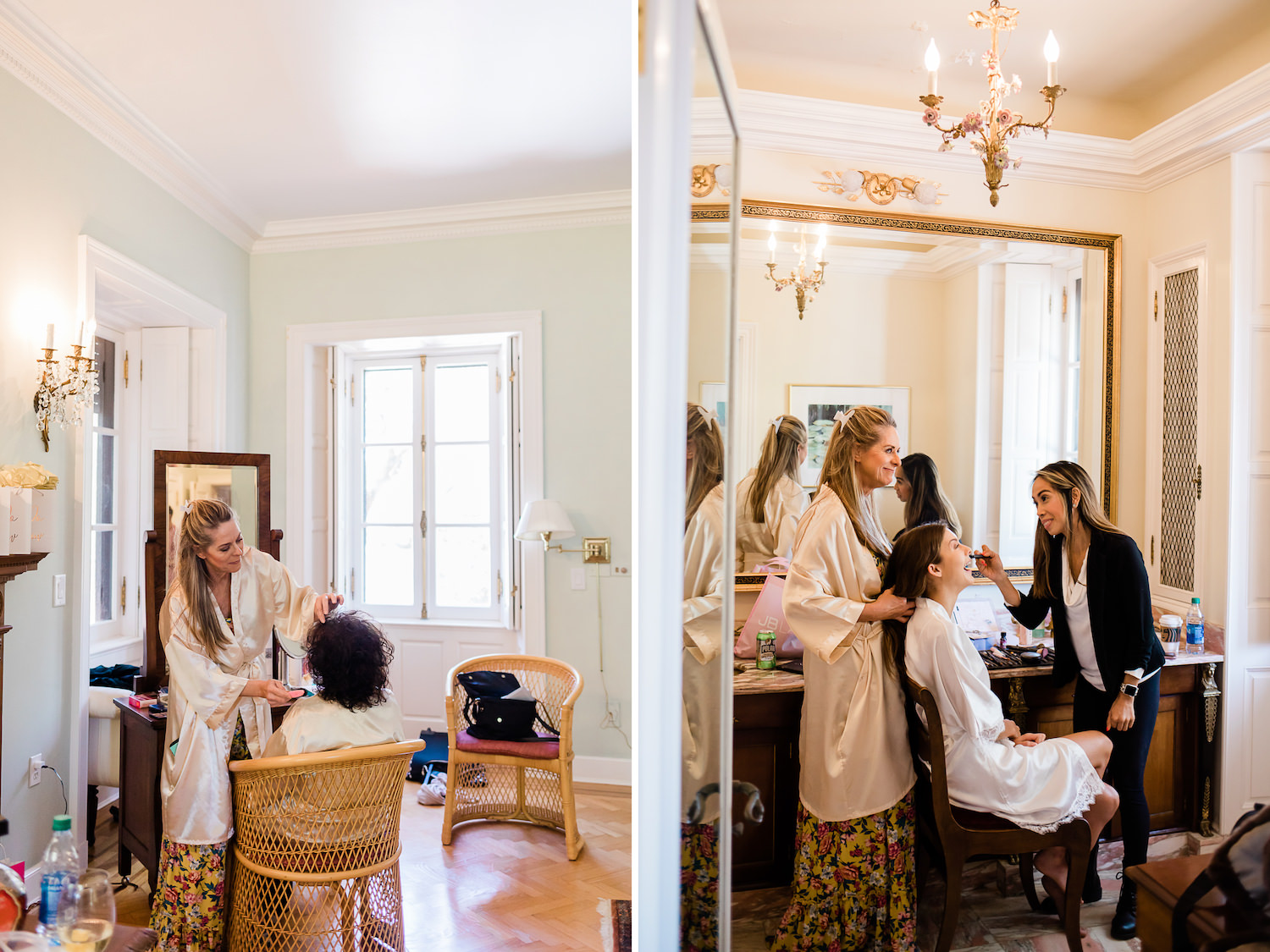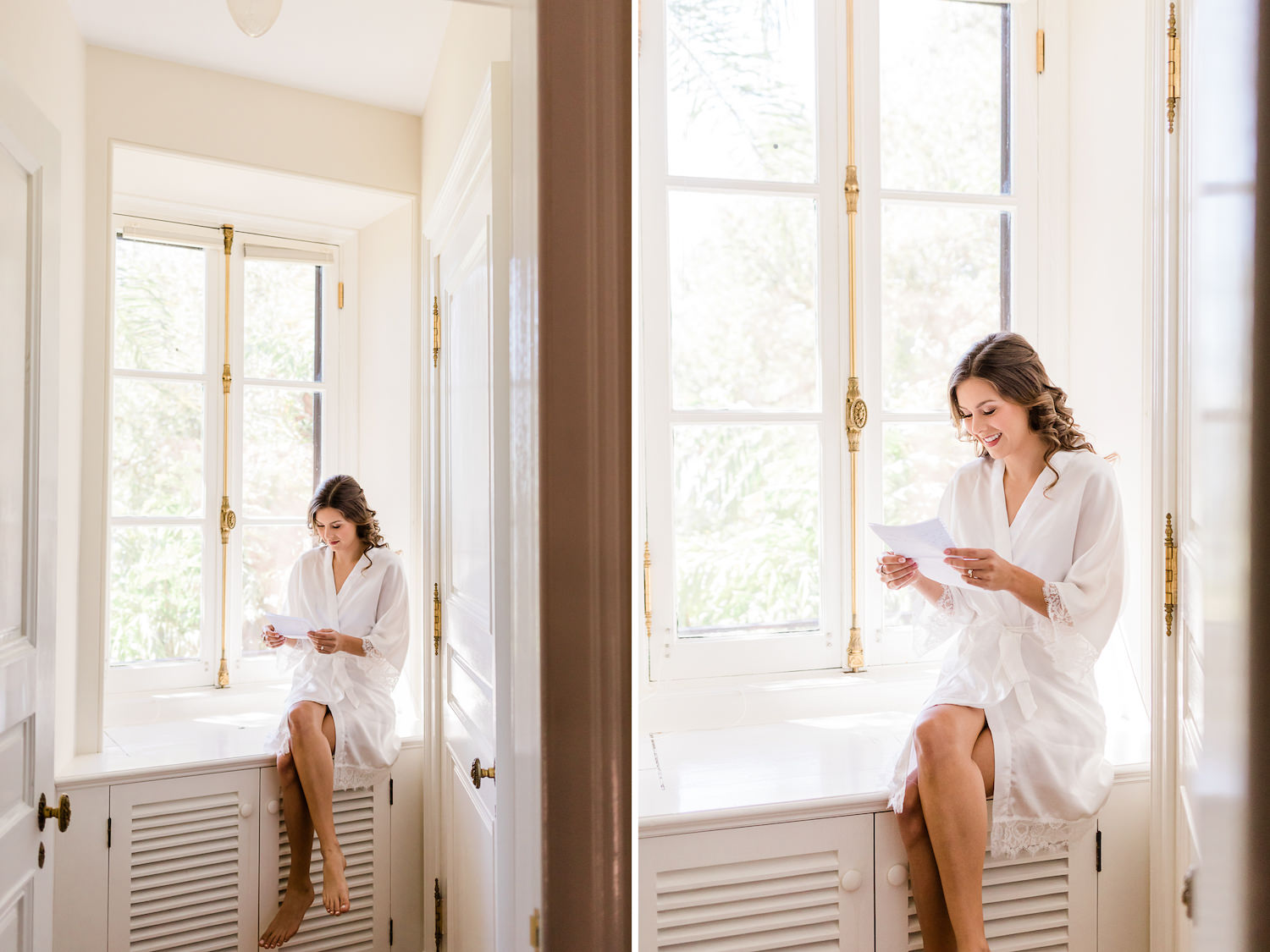 There is no better way to gear up for your ceremony than reading a letter written by your future spouse!



























First looks with Dad are always a tear-jerker!



When I first saw this staircase inspiration hit. I knew if Marina trusted me enough we could get this magical and dreamy photo of her. Luckily, she was beyond thrilled by my vision and we got the PERFECT bridal portrait.
Nothing screams a mansion wedding than a spiral staircase.

Marina surprised Matt with a very special box during their first touch.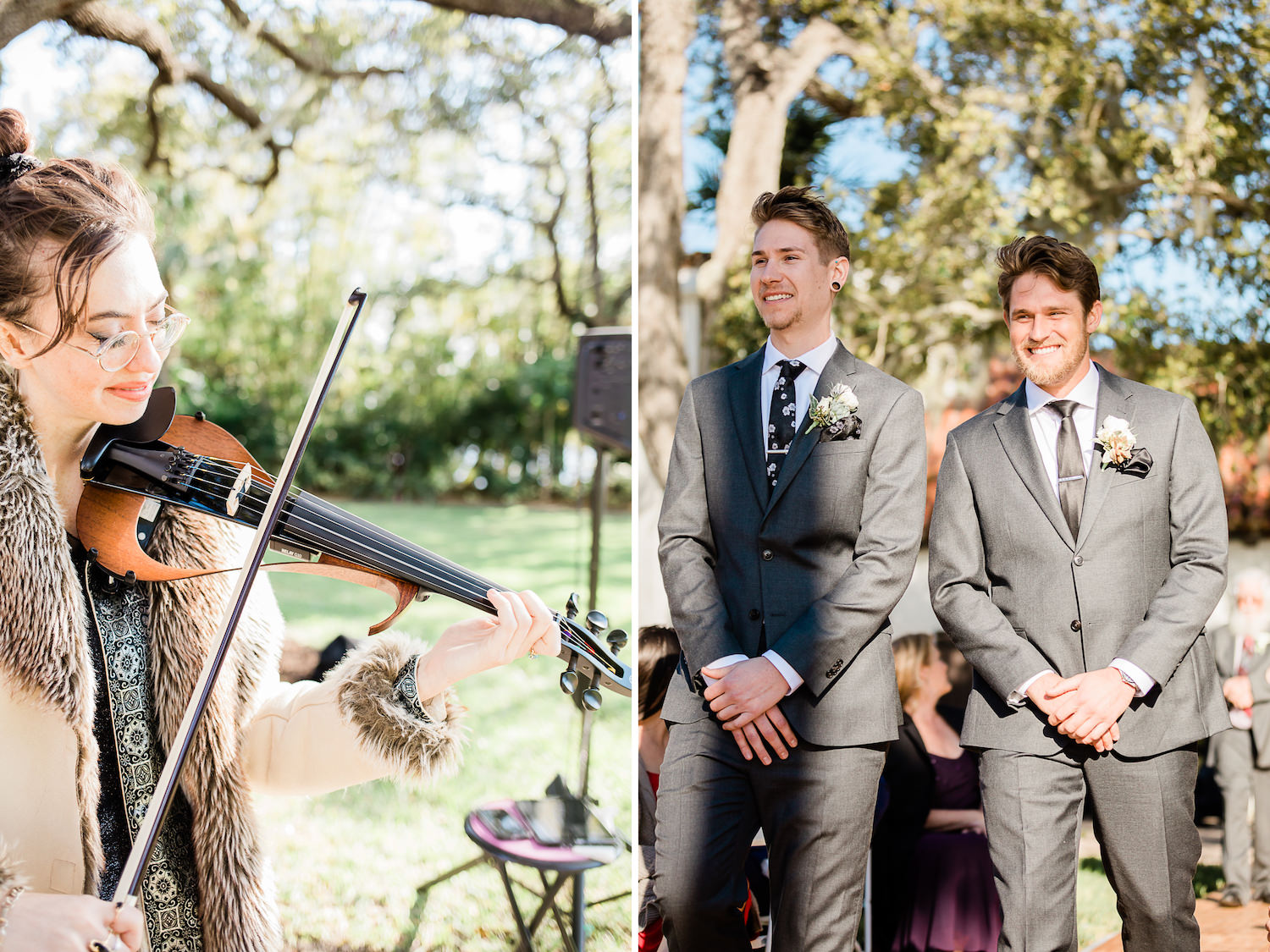 Instead of a unity candle, they opted to have a salt covenant. Salt is binding and was used in ancient times as a way to seal your promise to one another.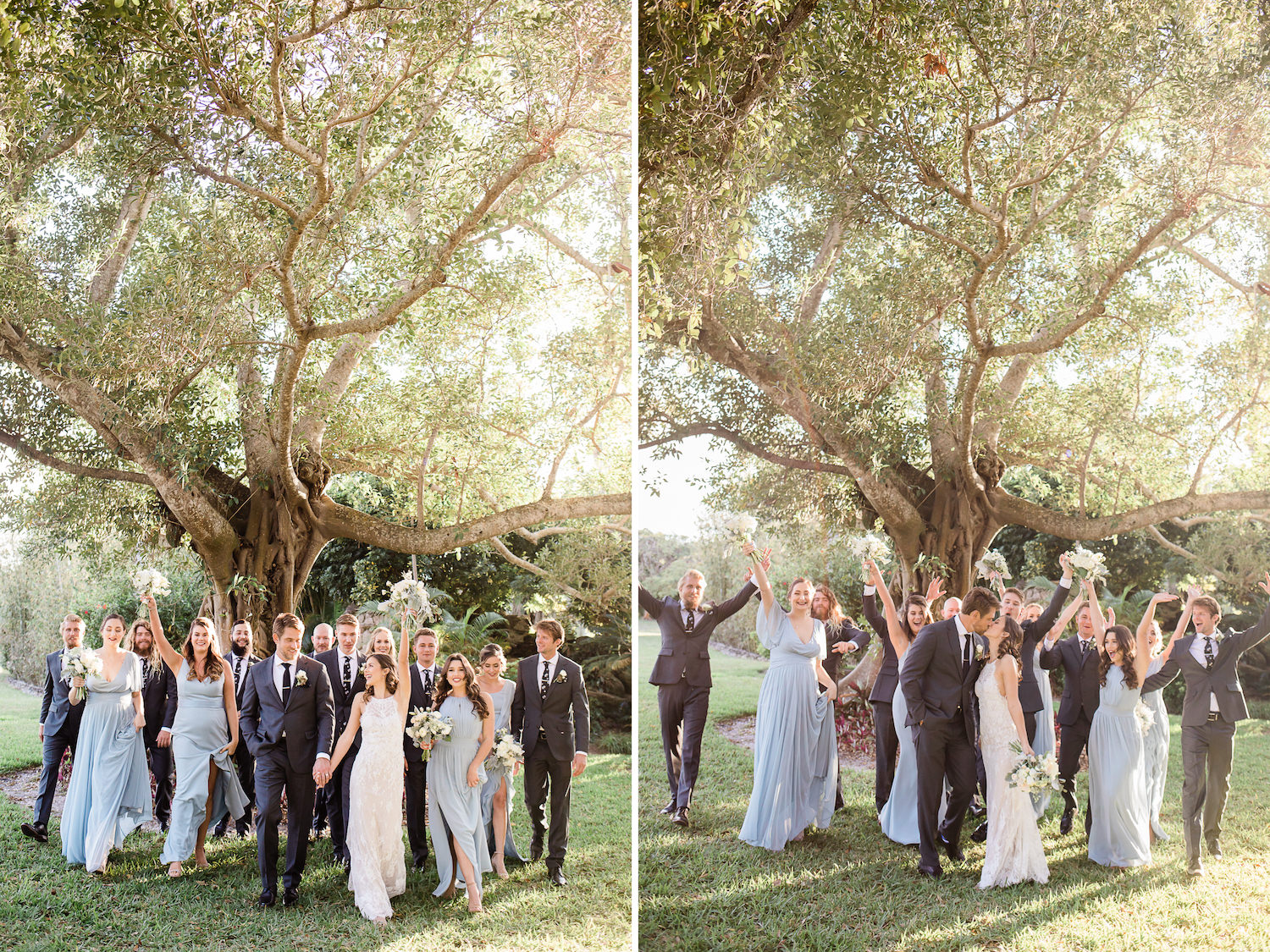 There were so many beautiful locations for portraits during this mansion wedding! From tropical trees to the mansion itself as a background, there truly was an abundance of beauty.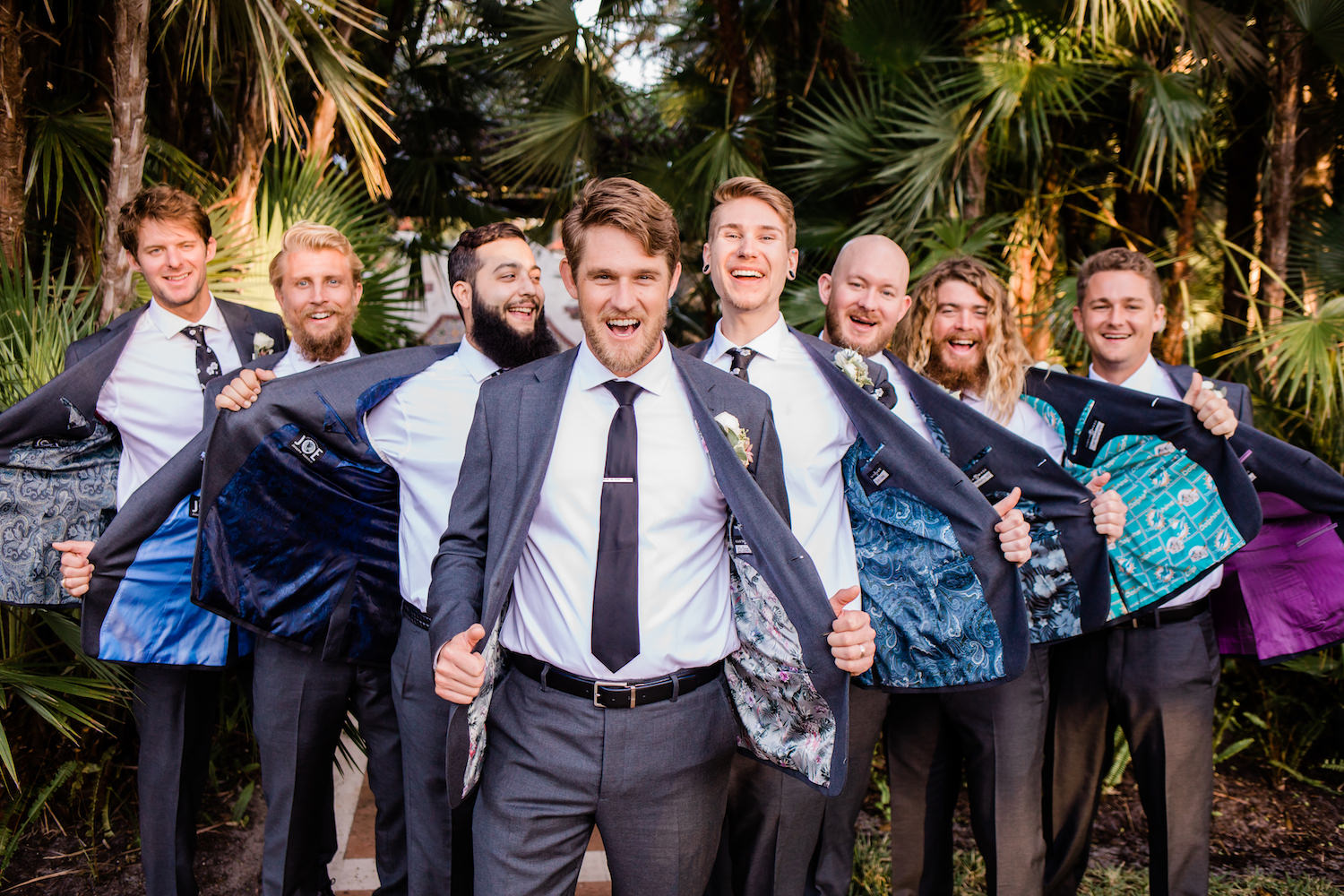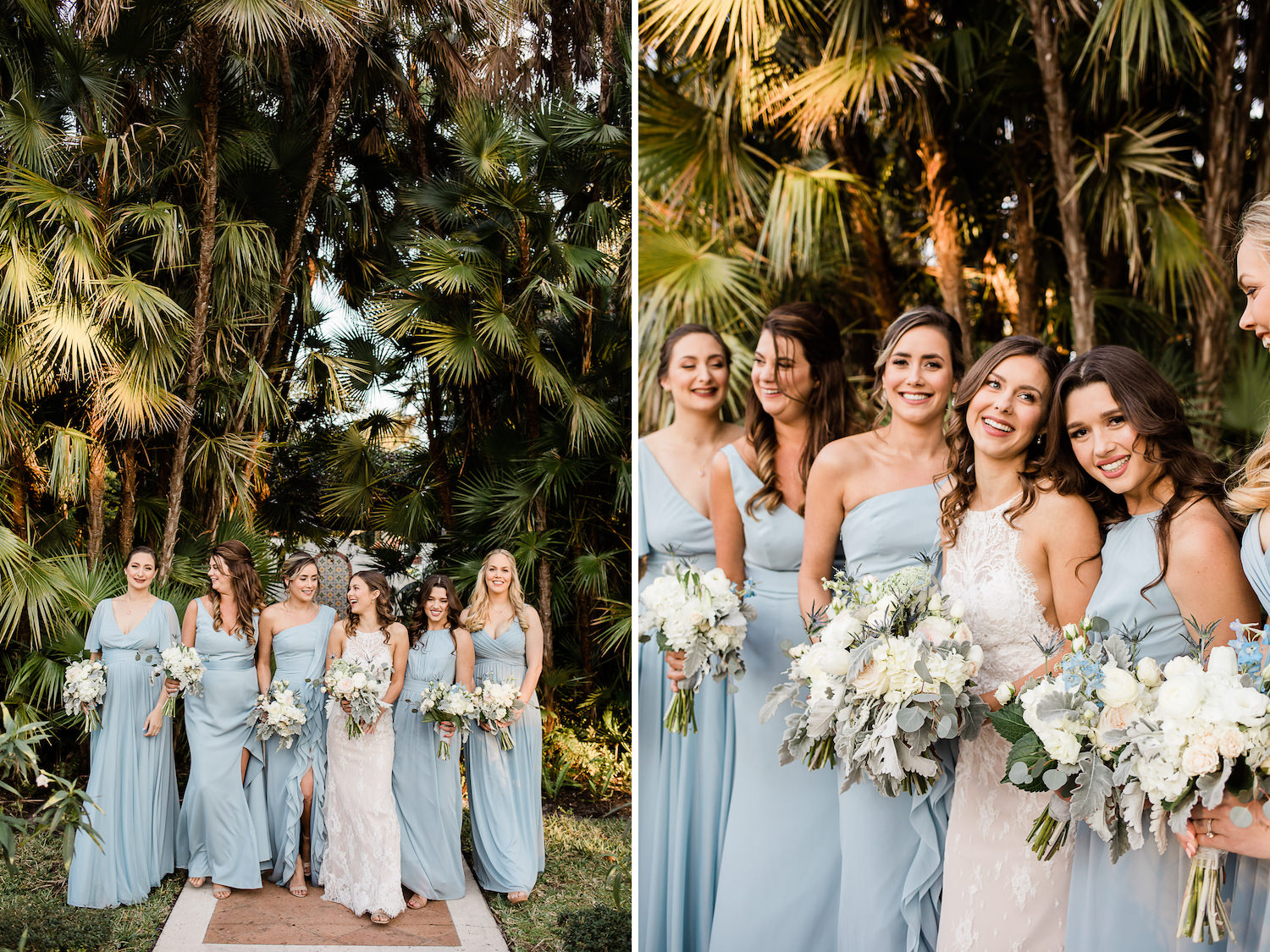 Strike a pose!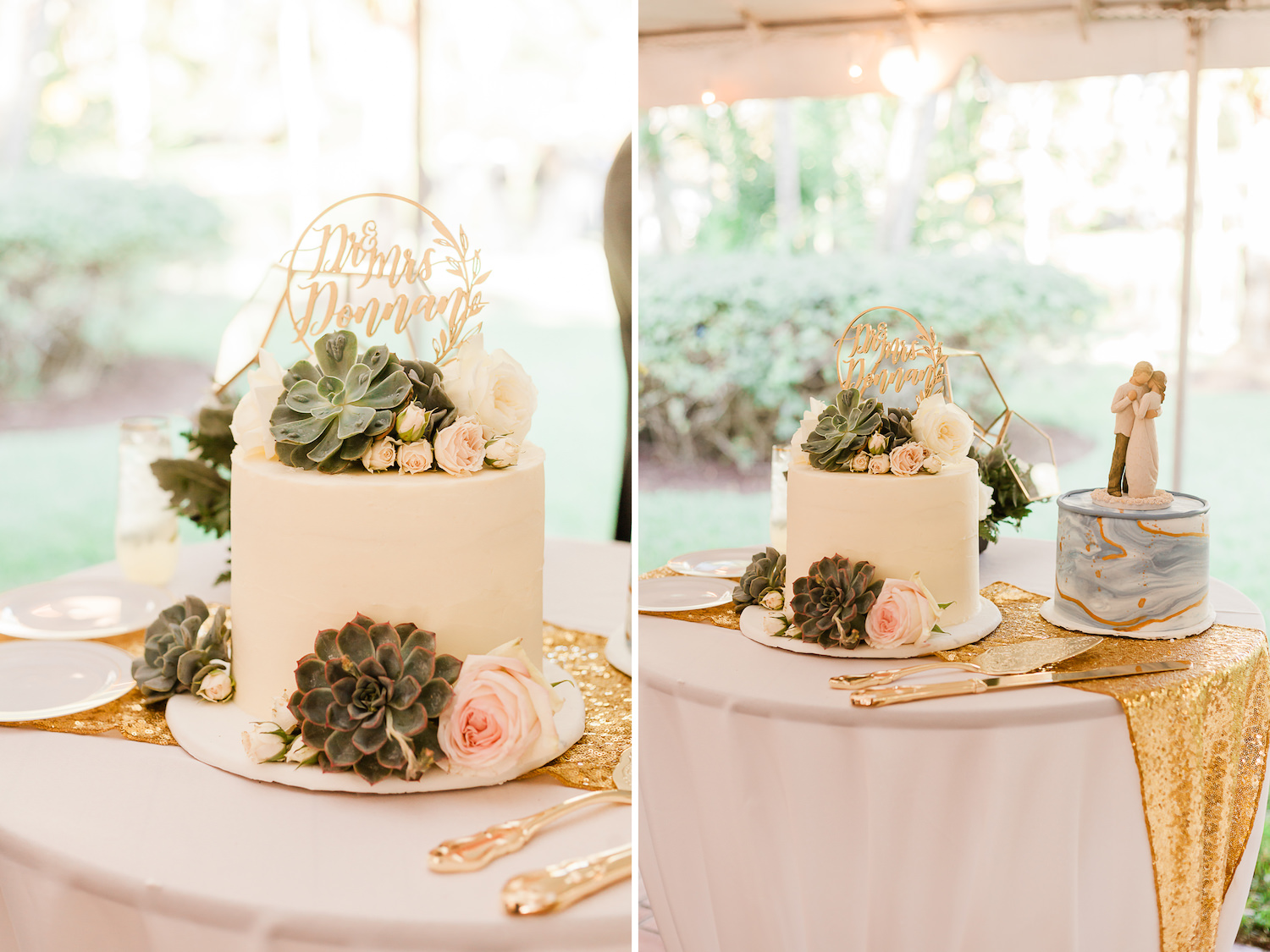 Marina was in for a special surprise from her family who flew all the way down from Canada! They had coordinated a special dance and serenaded the couple with one of their favorite songs!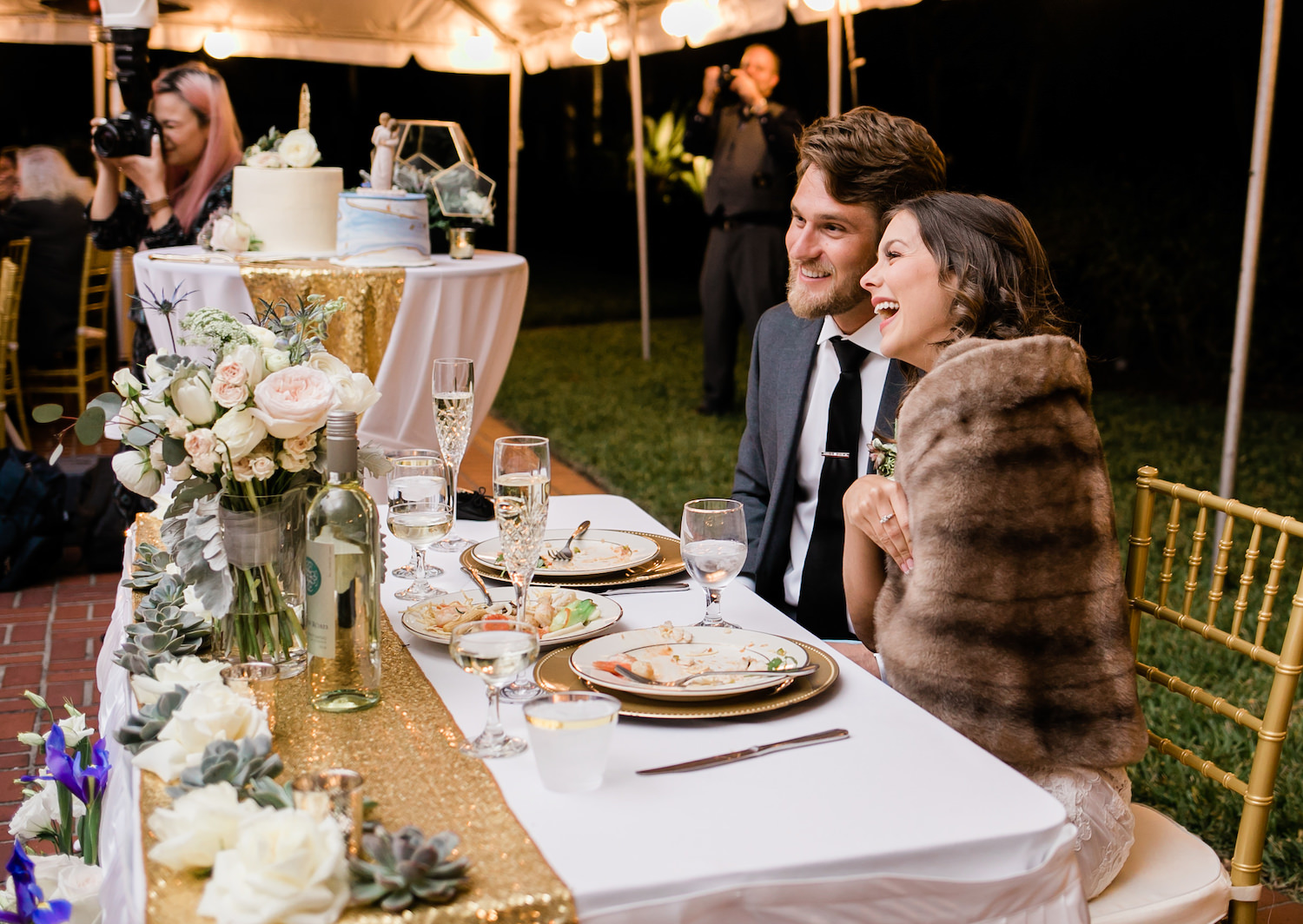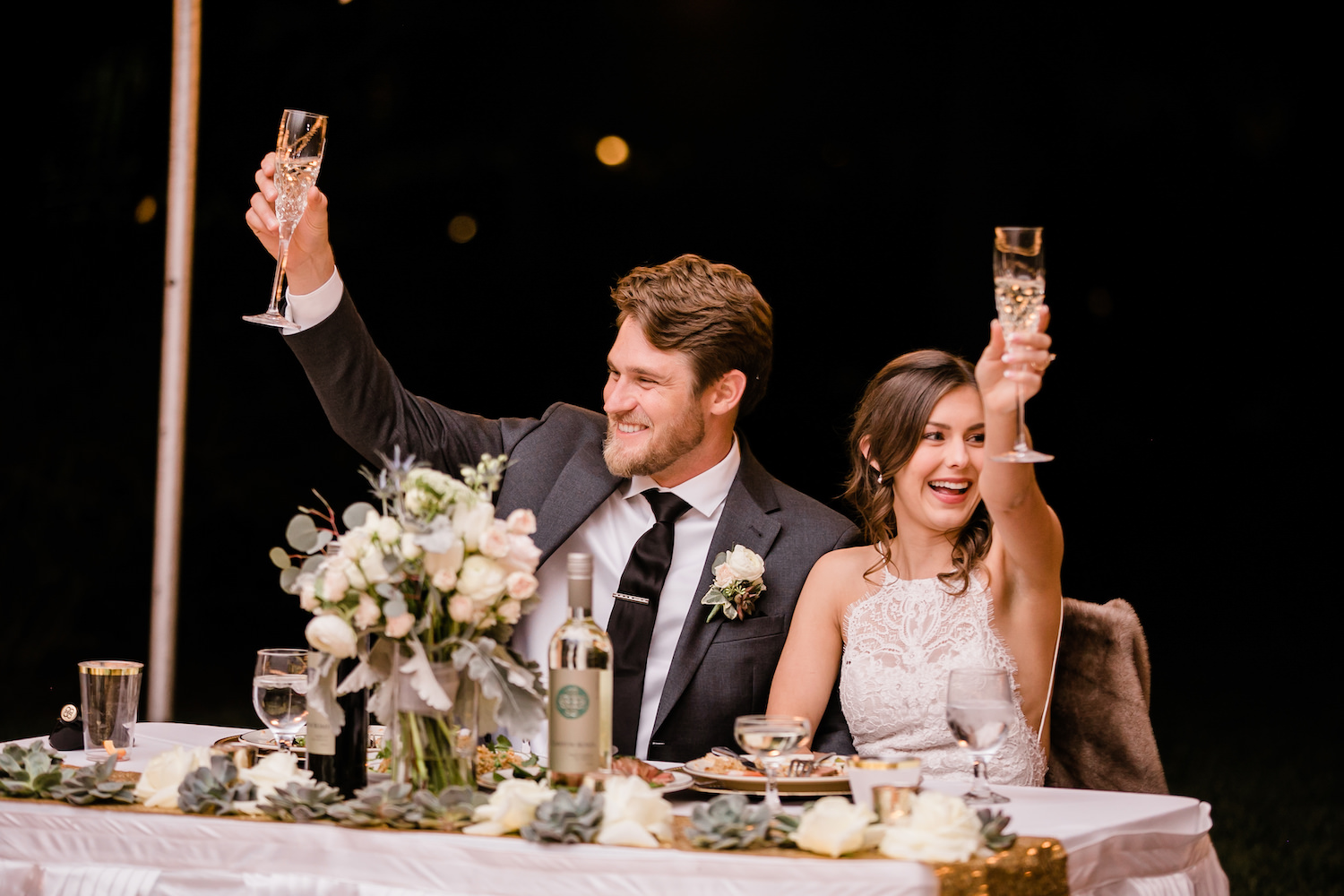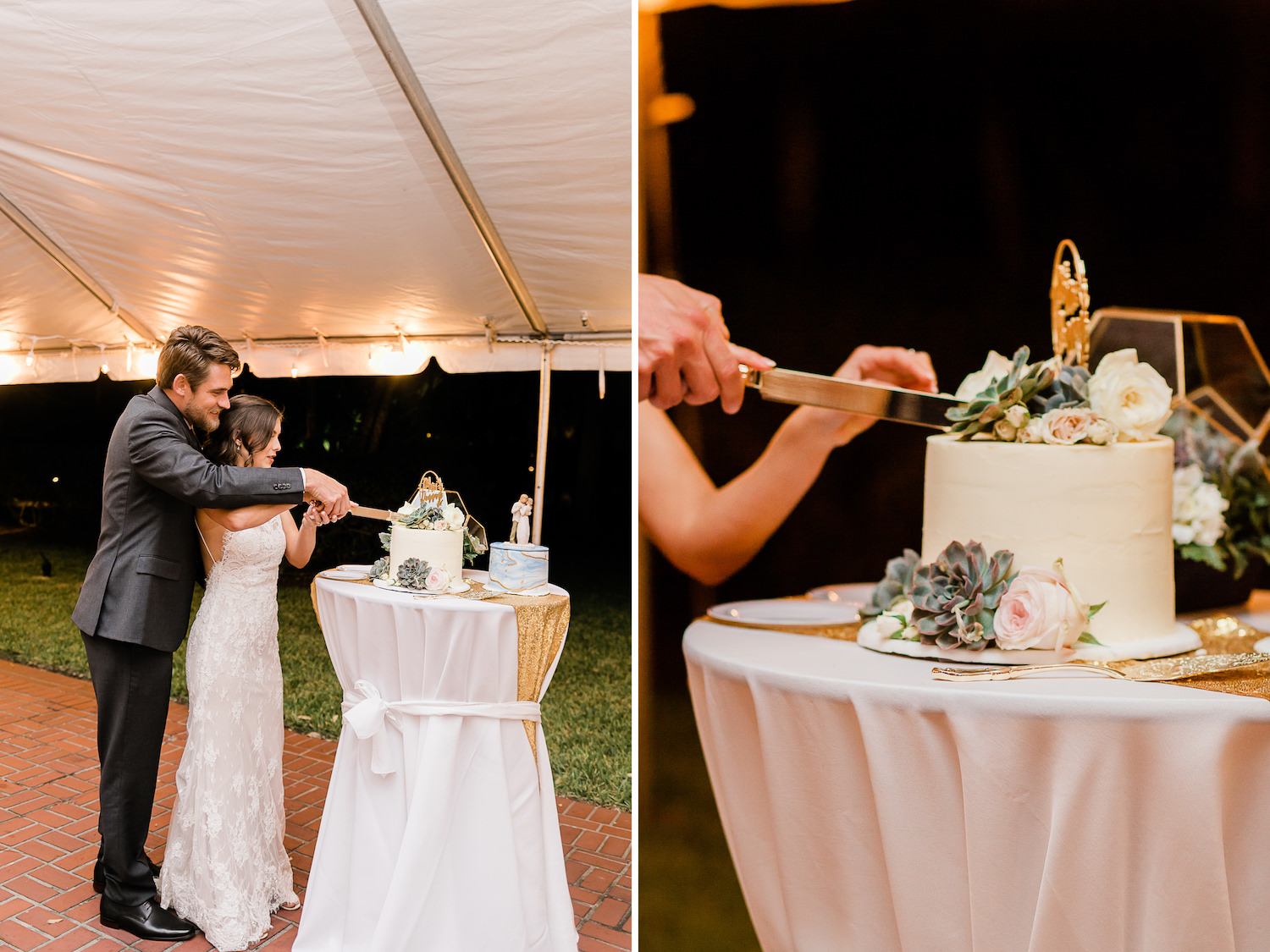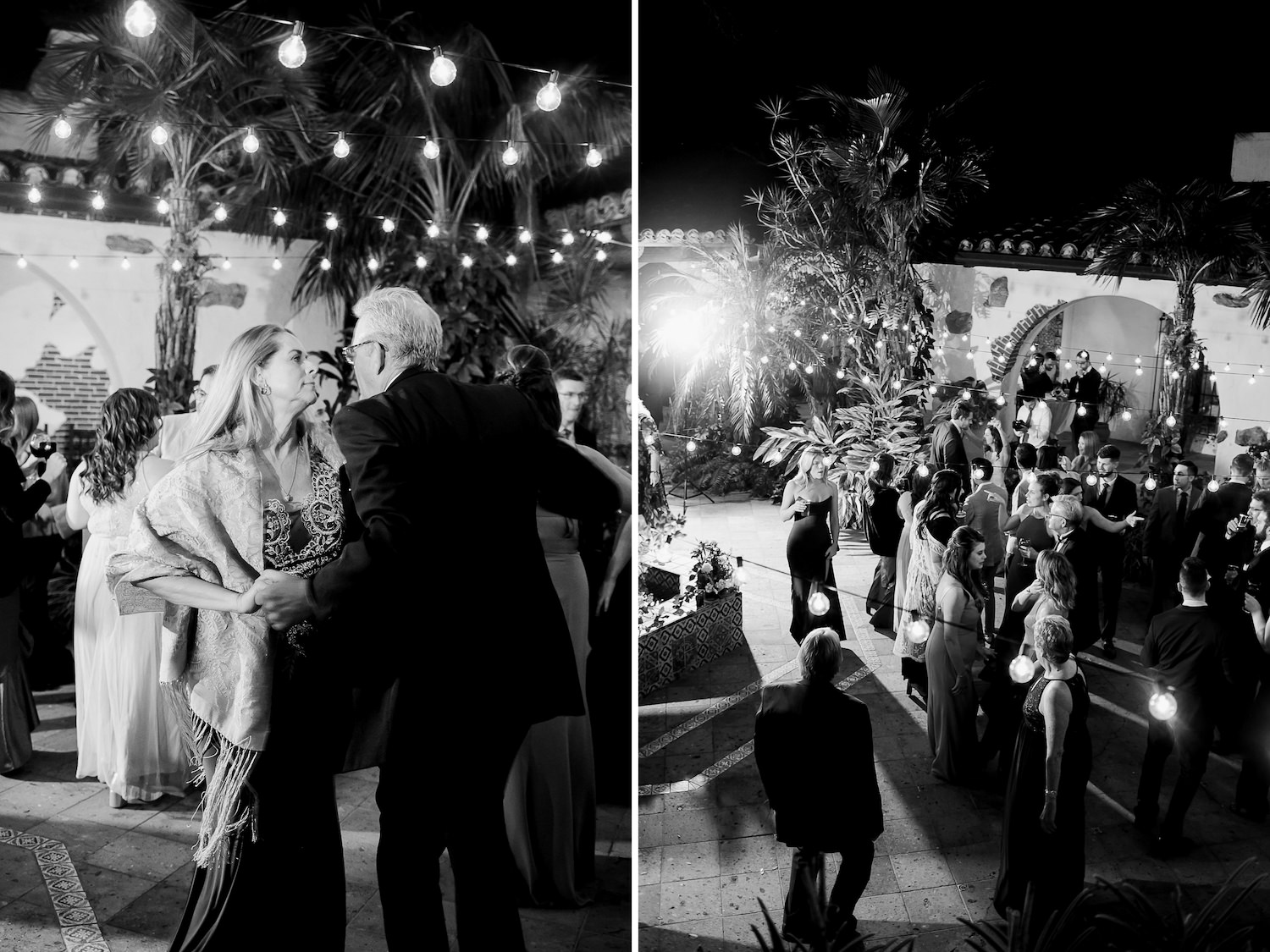 A mansion wedding with the courtyard as the dance floor? Absolutely the best place for everybody to show off their moves!
Now time for the best part of the night. Matt went in for the garter but… it wasn't there.
Where would the garter be hiding? On grandma's thigh!
Every single guest at the wedding was ROARING with laughter over this change of events. Marina and her Grandmother had been planning this for months and boy did it surprise Matt. 

A special kiss just for Grandma!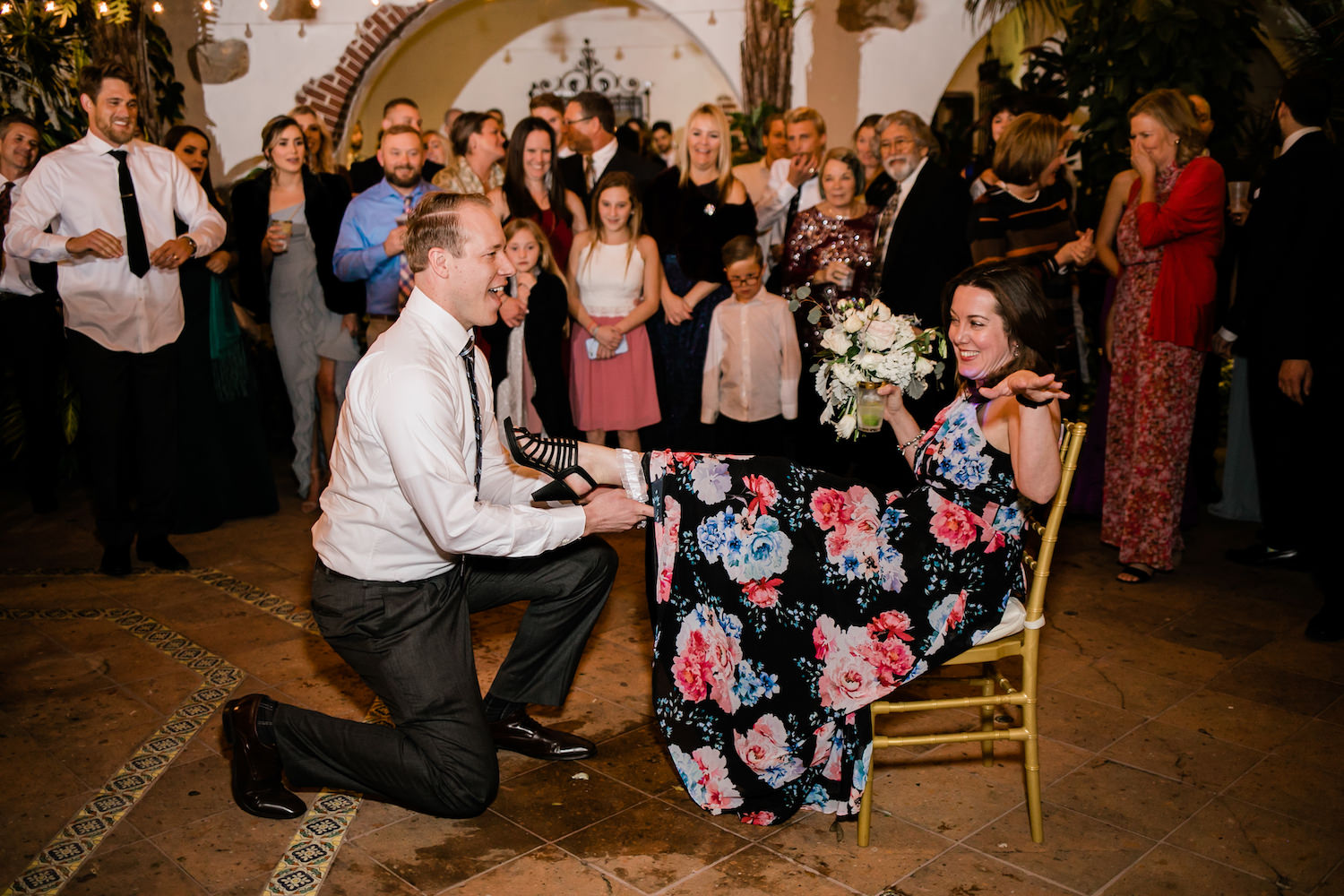 Matt and Marina's private mansion wedding was full of so much love, joy, laughter, and beautiful moments. From the romance of the first touch to surprise moments in the reception, everything was so memorable for the couple and their loved ones. I am beyond honored to not only have photographed this beautiful day for them but also to see my cousin marry the love of her life.
Looking for more romantic moments?
Make sure to check out A Romantic Surprise Proposal in  Kansas City!