A picnic at the Nelson Atkins Museum of Art is the perfect way to spend your engagement session!
Be sure to stick around to see where this picnic ended up!
There are so many beautiful parks to have a picnic in Kansas City, but the Nelson Atkins Museum of Art is by far one of the best locations.
No matter the season, the Nelson Atkins Museum of Art's grounds are the perfect backdrop for any photos. Having a picnic with this museum in the background can give an extremely romantic vibe to your photos. But there is more to having a picnic than a romantic background. When you're relaxing in the park with your partner, you should have things to keep yourselves entertained.
The best part of having a picnic for your engagement photos is that you can customize it to whatever feels right!
For Abby and Trevor, their picnic included board games, a choose your own adventure book, cider, and of course – pizza! After taking some traditional photos around the park, we did a quick outfit change and grabbed a blanket for some fun photos. When Abby and Trevor told me they loved board games, I didn't expect them to pull out Catan.
If you're a board game nerd like myself, you'll know that Catan is one of the best.
Learning more about these two like their love for pizza, cider, books, and games made me even more excited for their wedding day. There was only one thing that we couldn't bring to their picnic in the park…a movie.
Abby and Trevor will be getting married at Uptown Theater later this year, and the ideas they have for their wedding day are what made me know we would quickly be friends.
It's not every wedding consult where the groom whips out his infinity gauntlet.
In fact, I'm pretty sure Abby had to convince him not to bring this to their engagement session. But since we couldn't bring the movies to their picnic, we decided to continue their engagement session and head to Screenland Theatres!
We absolutely made a mess with popcorn, but this quickly became one of my favorite engagement sessions to date!
A choose your own adventure book with your partner? Nothing screams romance like this!
If you don't know what Dunder Mifflin and Mouse Trap are, then I'm not sure we can be friends. Parks and Rec and The Office are two of my top 10 favorite shows.
Can I get a "hell yeah" for the most epic ring shot ever?!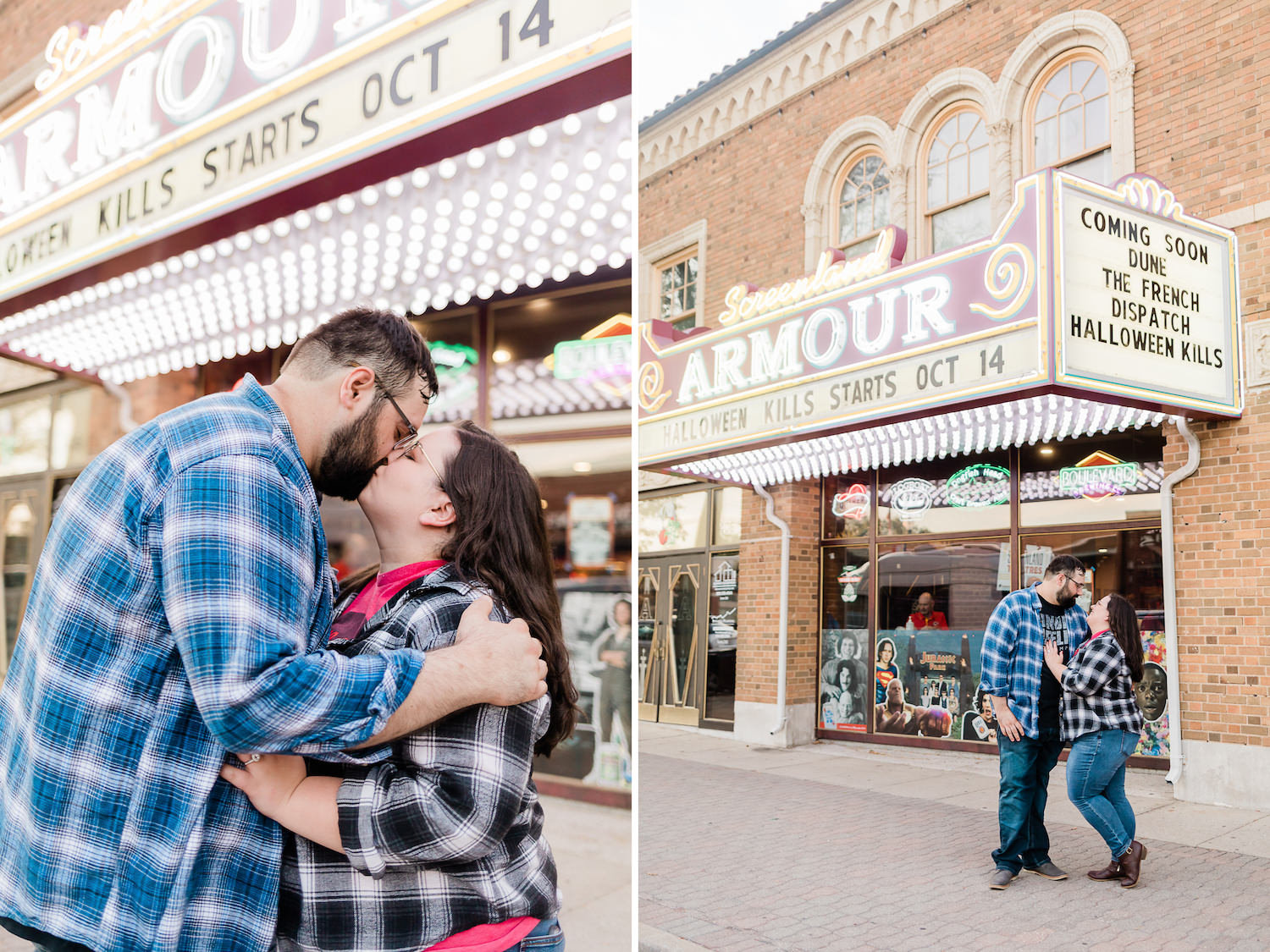 I seriously cannot wait for Abby and Trevor's wedding later this year!
Looking for more fun places in Kansas City for your engagement photos?
Be sure to check out these stunning Liberty Memorial Engagement Photos!