A fall wedding at The Historic Longview Mansion, could it get much better?
Not in my eyes. Olivia and Chris truly chose the perfect venue for their colorful fall wedding. The Historic Longview Mansion is located right outside of Kansas City. This elegant wedding venue has so much deep history throughout each room. The venue itself sits on a beautiful plot of land in Lees Summit, and when the colors start to change it's truly magical.
Olivia and Chris met in the summer of 2014, while they were both visiting home from college. As in most modern couples' love stories, these two met on the wonderful app of Tinder. After weeks of talking and playing Tetris, they decided to meet. Finding out that they both loved rewatching Disney movies and were obsessed with Chiptole, the deal was sealed and they began officially dating.
Flash forward to June of 2020, Olivia and Chris decided to celebrate their sixth-year anniversary by taking a trip up to Green Bay, Wisconsin. It was there that Chris decided to pop the question on the top floor of a restaurant that they had completely to themselves (thanks Covid!).
Thus began the planning of their fall wedding.
There are so many important moments on a wedding day, but each couple has different priorities. For Olivia and Chris, their top priority was having important memories with them looking their best. You would be amazed at how many of my couples feel this way. Looking back at the most incredible moments of your life, you'll want to look and feel your best!
When choosing a wedding venue, make sure that both prep locations have a ton of natural light.
The Historic Longview Mansion has natural light pouring into both getting-ready suits throughout the entire day. Not only does this make makeup and photos look glorious, but it also brings so much joy into the vibe of your day.
Olivia was so dedicated to making her wedding perfect, that she had stayed up the night before finalizing nameplates and custom vow cards that she made. Every detail of their day was perfect, and it shines throughout the wedding.
When is the best time to have a fall wedding in Kansas City?
Late October and early November are absolutely magical. The leaves surrounding The Historic Longview were bright and colorful, making their ceremony an absolute dream. Olivia and Chris had their ceremony on the West Lawn, with large trees overhead framing them. As they walked down the aisle, they had a mariachi band playing – how unique and fun!
This couple truly had the most beautiful and colorful fall wedding, all in the heart and history of Kansas City.

A detail I always love is when the groomsmen pull up Youtube to learn how to tie a tie.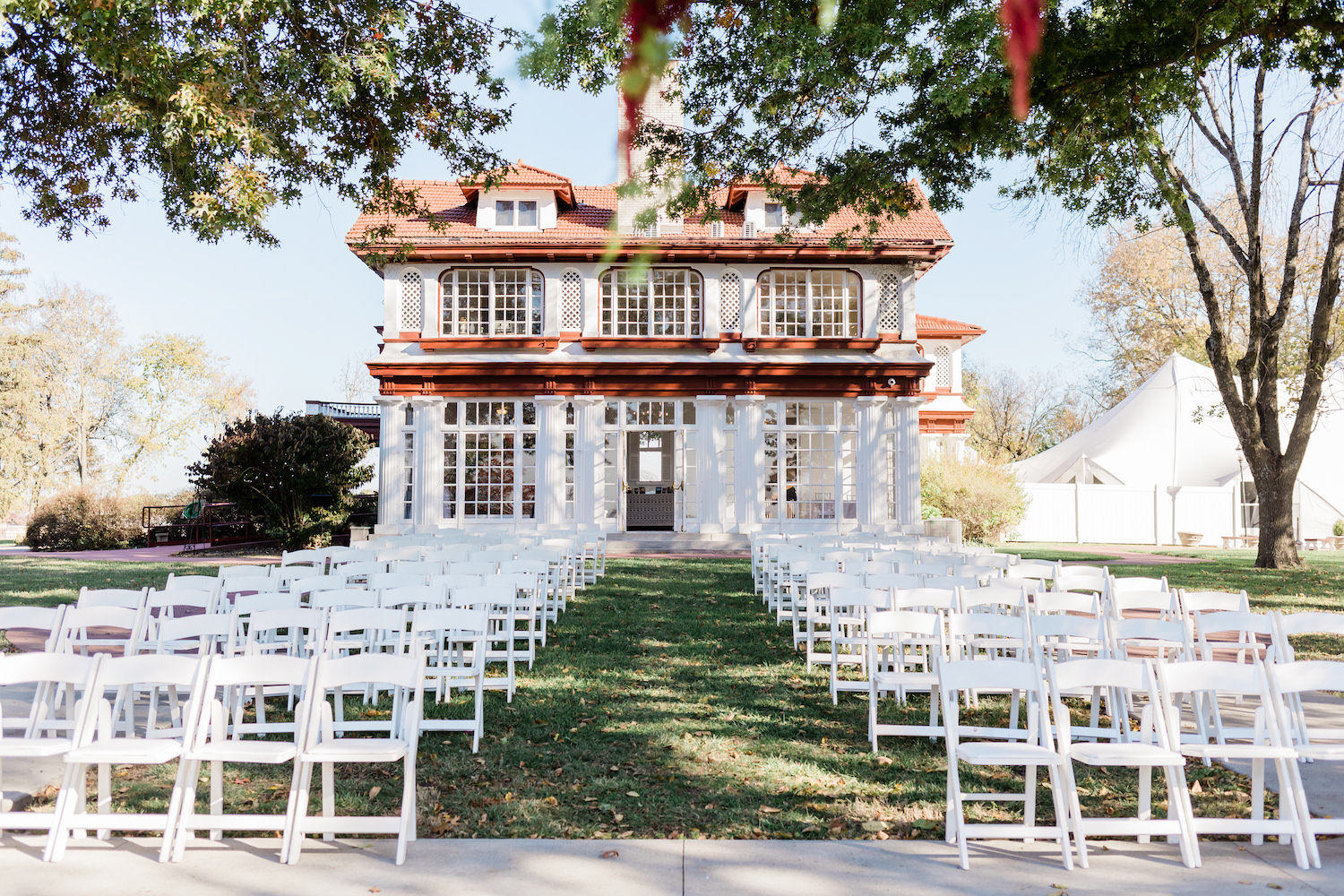 Want to see more from this incredible Kansas City couple?
Be sure to check out their snow engagement photos at Liberty Memorial!
A special thank you to all their amazing vendors who made their day possible!
The Historic Longview Mansion
Indigo Rose Floral
DJ Carl Guastello