When Matt proposed, we were beyond excited to start planning our wedding. I had been planning my wedding in full detail with my Barbies and Polly Pockets my entire life – so I was prepared! Or so I thought…
We began the planning process and quickly came to the realization that we couldn't afford a huge wedding. Barely eighteen, next to nothing to our name and then came the big kicker – the military stationed us across the country. After an entire month of planning our wedding, we somehow had to afford a huge move as well?!
Needless to say, we cut our budget significantly.
All of the decorations came from Dollar Tree and the cake from Publix. Every venue we had in mind became unreasonably expensive so we quickly changed the venue to my mother's church. I splurged on my gown, but we cut every part of our budget by at least half. The only important thing for us was that we had photos of the day. Hiring a photographer was our number one priority so I searched endlessly for ones around the area. But every time I saw the price I cringed a little…
Was it really worth it to invest that much money into wedding photography?
Having practiced photography myself for years at that point I could not imagine that being a huge part of our budget. Finally, I decided to reach out to a friend who was a photographer. Although I was not in love with his work, he was by far the cheapest option.
The week before my wedding, the photographer called to inform us that his grandmother had passed away and he was no longer available to photograph our wedding.
While I understood the circumstances, I was heartbroken. I had no idea what to do. Luckily, he did have a second shooter that was able to fill in. We never met his second shooter, so we honestly didn't know what to expect. We assumed he would meet us at the church and that he was just as trained as the primary shooter. Our photographer also ensured us that he would still be the one to edit the images. At this point, we had no choice but to accept this offer. What were we going to do? Try and find another photographer a week before our wedding?!
Our wedding day was a fairytale come true.
The day started with my bridesmaids and sister getting ready together. There were so many beautiful memories from that morning as we laughed and joked the entire time. After making sure every detail was perfect, we made our way to the church. My girls dressed me and my sister surprised me with a Tiffany's necklace that became my something blue. The entire morning was magical.
As everyone lined up for the ceremony I had a few moments to myself on the stairwell.  The violinist was playing "Something" by The Beatles and my heart soared knowing that I was about to marry the love of my life. Tears ran down my face right before I walked myself down the aisle. We vowed our love for one another in front of our friends and family and then we danced out of the church and into the reception.
Heartfelt moments filled the reception. We laughed the night away with toasts from the bridal party, a hilarious speech by a close friend, and most importantly time spent with loved ones before the big move. Hand in hand, we enjoyed every moment together. It was by far one of the best days of my life.
In the days after our wedding, we packed up our entire lives and said goodbye to our childhood home. All was well and the stressful planning of a wedding was over. We hopped into our Uhaul and began our honeymoon…driving all the way from Nashville, TN to San Diego, CA.
Three days into our honeymoon I receive a call from our original photographer informing me that "his house was broken into and all of our photos were gone".
No words escaped my mouth. We would have had no photos with my nephew, our families, Matt's grandparents or any of the little moments in between. The tears during our vows, the laugher during our reception just disappeared.
After hearing his story it seemed that none of his equipment was stolen, only the hard drives that contained my photos. The only photos we were going to receive from our wedding day were those that were taken by friends and family.
We had trusted a friend so we could save money, and in turn, we had lost the only keepsake we wanted from our wedding day.
If I could go back and do it all again, I wouldn't have called our friend. We would have cut our budget for the cake, my dress, the suits, and thrown out all of our decorations. We don't remember the small centerpieces or the taste of the cake, because none of that really mattered. What matters are the moments in our memories, the ones that we planned on reliving for a lifetime. Investing in not only quality photos but a professional who would take care of them is something I wish I would have done.
So here are the photos we have from our wedding day. The low quality, randomly edited photos that we cherish more than anything else we own.
I brought my own camera to our bridal prep, and I'm glad I did! The start of this day filled the air with so much anticipation and joy.
As scary as it was, walking myself down the aisle was something I was extremely proud to do.

It was wonderful having my nephew be such a big part of our day, and in turn, these photos are by far two of my favorite.
What song did we dance out of the church to? "California Love" by Tupac. We thought it was very fitting since we were uprooting our lives to move to San Diego, California.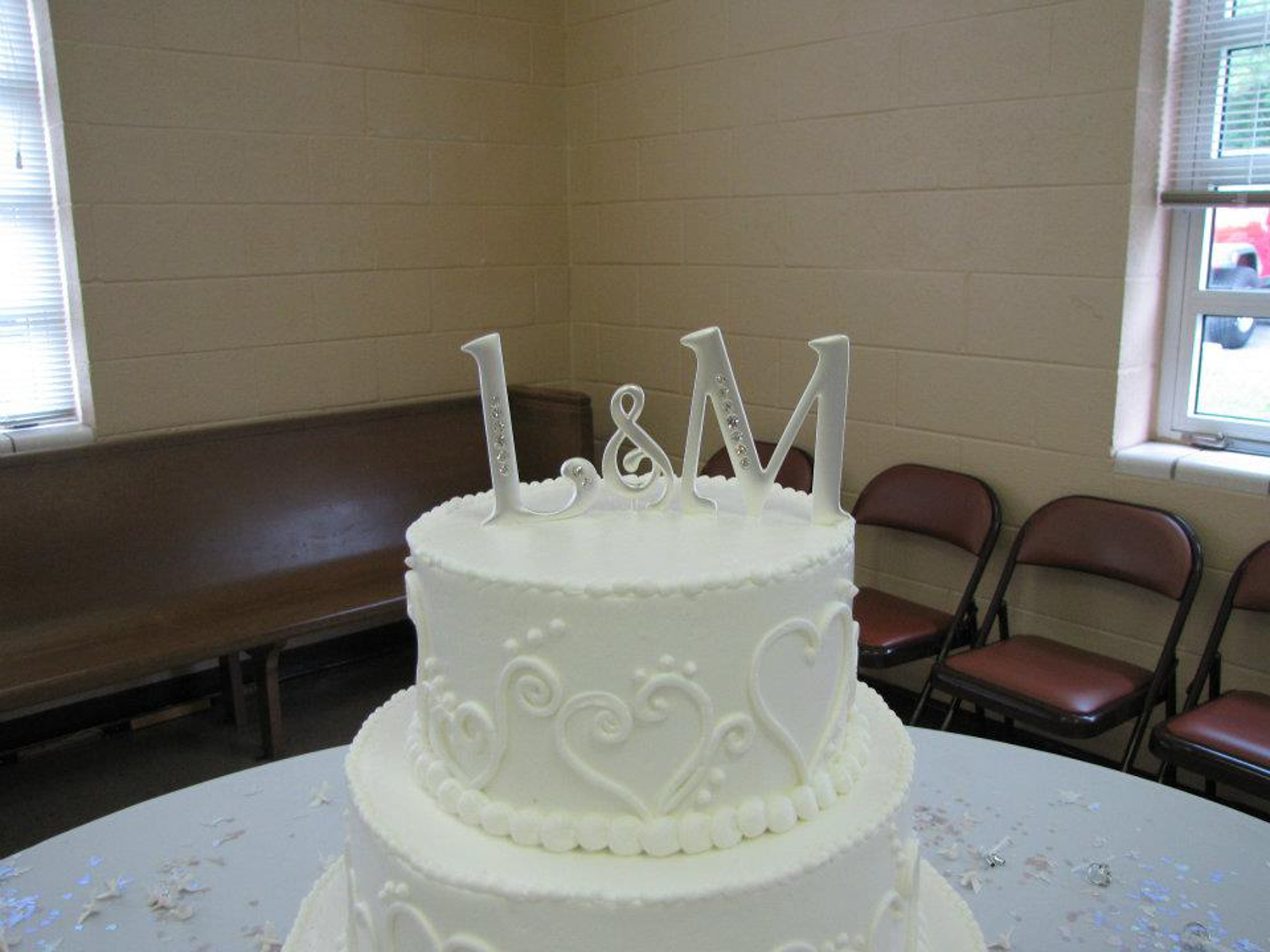 We still laugh over the fact that we had a Fight Club grooms cake, so I am so happy that my friend took a photo of this.
Up until this moment, I completely forgot that smushing cake into your spouse's face was a thing. This was one of the moments during our day that radiated with love.
We have an album filled with these photos, and they mean the world to us. Knowing we have at least a few moments from that day that can spark our memory helps. Thank you to all of our friends and family who were a part of our day. And a huge thank you to those who took photos for us.
If you're on the fence about hiring a professional wedding photographer vs a friend… HIRE A PROFESSIONAL.
Your memories are valuable. Your story is unique. From experience, you do not want to look back at your wedding photos and feel ANY bit of sadness. You should look back and be able to live your day from start to finish over and over again.
We did attempt to make up for the lost moments. For years we "re-did" our wedding photos and it led to us renewing our vows. But that will be a blog post for another day, so stay tuned for more of the story! Make sure to follow my blog at www.lbensonphotography.com/blog