A letter to Juliana – for your first birthday.
–
Today is your first birthday! This year has by far been the BEST year of our lives. It has gone by so quick, and yet it feels like just yesterday we were waiting for you to be born.
Since I'm uber sentimental and have been crying for weeks over the thought of you turning one, I decided to share some of the most important moments in your first year of life.
–
I'll start with your birth story. It was your due date and still, you showed no signs that you were ready to meet us. I was extremely exhausted. We had spent the past week doing nothing but walking and squats to encourage you to come out. Your Dad and Aunt Sarah had to support me when we walked up hills, laugh as I took multiple bathroom breaks on a 10-minute walk, and encourage me that things were going to be okay. But alas, you were comfortable.
A few friends suggested getting a massage, and within an hour I was having contractions. I was so happy that their advice worked! As nervous as we were, we were also as ready as we could be.
But then I labored for FOUR WHOLE DAYS. My contractions were not close enough to go in, so we kept walking. On the night of the 8th, they finally became close enough (and painful enough) to go in.
I'll never forget the moments spent in the hospital room. The moment they told me that I was only 1cm dilated and had to wait. The moment I threw up the Himawari sushi your Aunt Sarah got us and spoke for the first time in hours. The immense amount of pain that led up to them having to induce me. As terrified as I was, I wouldn't have been able to do it without Matt counting with me, letting me squeeze his hands until they were numb, and overall just being there. I wouldn't have been able to do it without your Aunt Sarah giving me words of encouragement and helping Matt when he seemed clueless. They were the love and support I needed to bring you into this world, and that is something I will never forget.
But no moment is branded into my memory quite like the first time I saw you.
Weighing in at 7 pounds 11 ounces, you made your entrance into the world on June 9th, 2018.
–
You were everything we had hoped for and more. Our hearts were overflowing with love for you.
We were so tired in the first few weeks, but I still managed to take my camera out and document these little moments. Your pouty lips, the lint you hid from me in your fingers, and hiccups were my favorite.
One of my favorite memories from your first week on this Earth. Your Dad spent hours with you, reading the pamphlets the hospital gave us and cracking jokes to make me smile. I'm pretty sure you only slept in our arms for the first month.
It was only fitting that since you made me walk so much to get you out, that we had to walk you so much to get you to sleep.
Your first dip in the ocean was so very special to us. We waited about two weeks before taking you to Tank Beach. Tank Beach is not only my favorite beach on Saipan, but it is also where your Dad and I renewed our vows. Lola chased us around and sniffed you a million times.
After we read you Tuck Everlasting and Holes, we decided that the first series you should read is Harry Potter. You were so entranced by the magical world and we knew almost immediately that you were a Slytherin.
Our breastfeeding journey was hard. I remember sobbing to Matt countless times, wondering how in the world I was going to make it to a full year. But here we are, baby! We couldn't have done it without the support and jokes from our close family and friends and the internet for the abundance of information.
Your Aunt RaRa has been one of the most important people to us, and I'm so thankful that had her help, support, and love in your first year of life.
Your first trip to Managaha was EXHAUSTING, but you took a nap with Aunt RaRa in her hammock while Mom and Dad went on the banana boat with Jordan and Avalon so that was cool. Also, we're very sorry that we put you in the smoking section for this photo…I honestly did not know.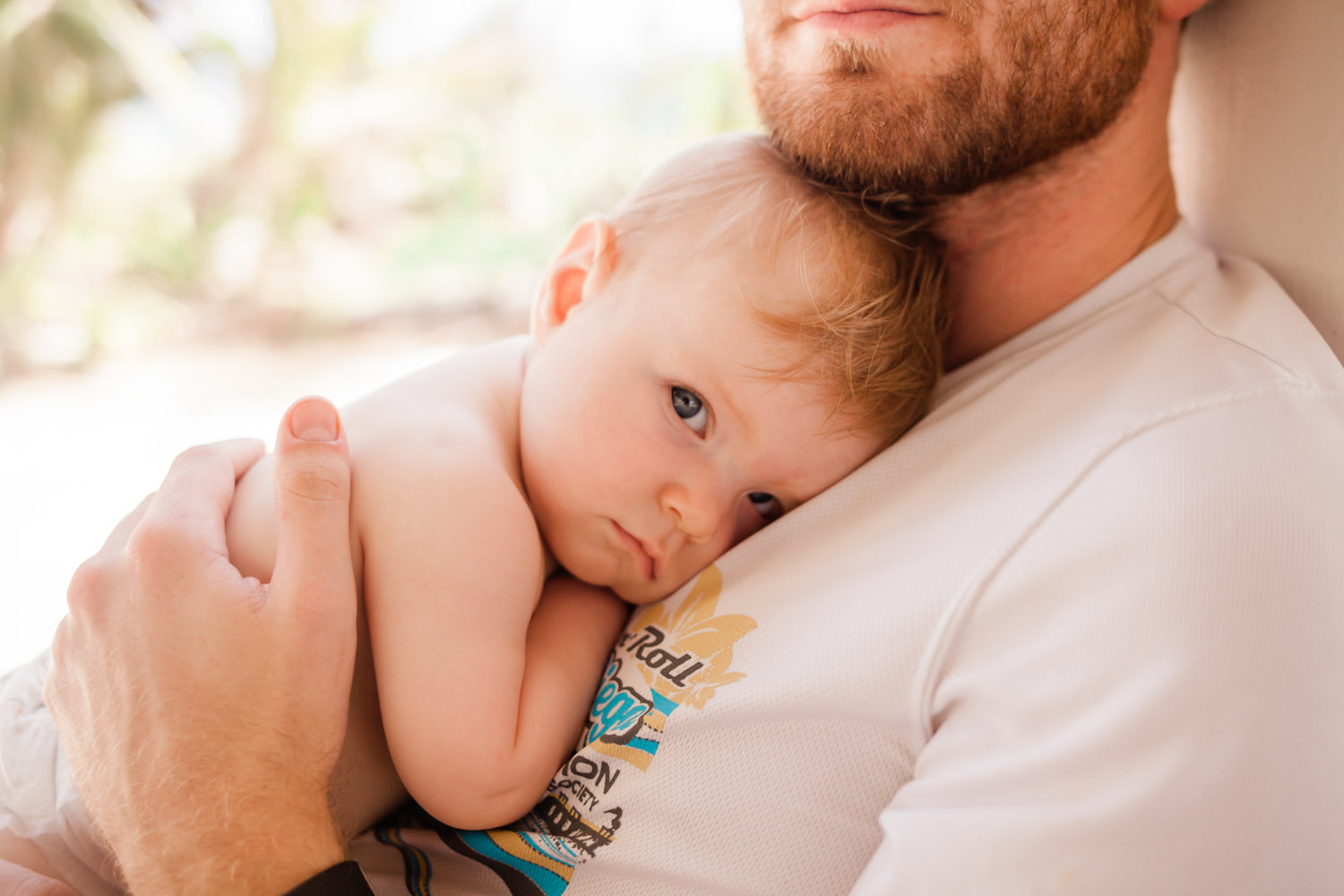 You were extremely ready to go home after spending the day at Managaha.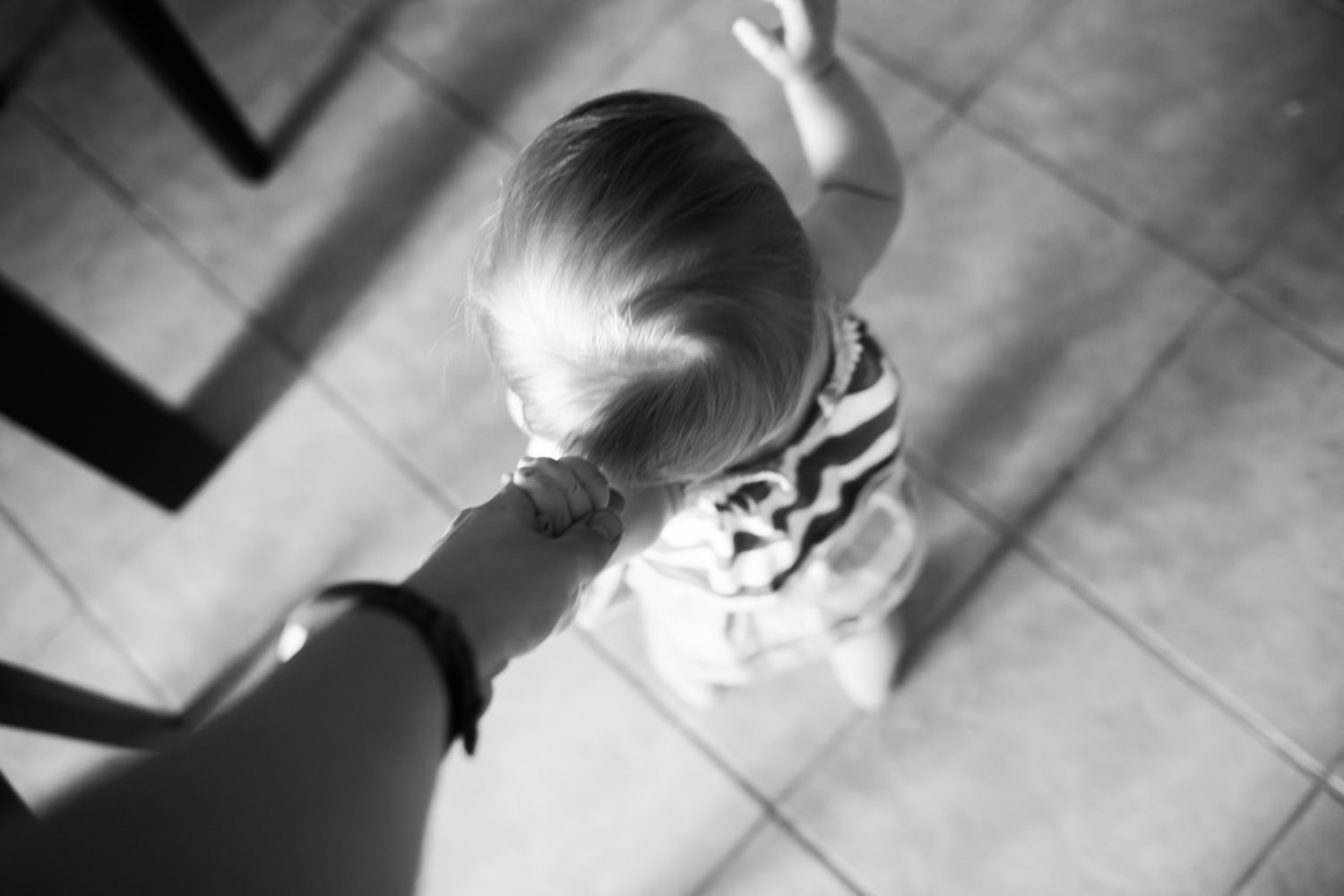 Over this year, I stayed at home with you (except for sessions and weddings). Every day was something different. In the first few months, we sat and read nonstop. But when you started crawling, all bets were off. We had to run DJ Roomba every day to keep the pet dander from sticking to your hands. And then you started walking and decided to break our backs. You held our hands and demanded to go EVERYWHERE.
I thought that you would latch onto a pacifier, blanket or doll as your "must have" toy. Then you discovered Blue Ball and he instantly became your best friend. There was a period where you refused to go to bed without Blue Ball in your hand. We're still terrified of losing it.
I'm pretty sure your Dad cried when you outgrew your matching pizza outfits (I know I did).
When you go to bed at night, your Dad and I go through our phones and share moments from our day. Playtime in the Department of Commerce yard, you pulling everything off our shelves, yelling at the cats outside with Lola, and squealing as we play fetch with the tennis ball – those are the moments from your childhood I want you to remember.
You are an island baby all over. Going to the beach is often difficult. I feel like we bring our entire household just to ensure that you're taken care of, but it is getting easier. You are now entertained by every piece of coral that you can find and laugh at us when we tell you that you can't put it in your mouth. Our beach days are by far my favorite.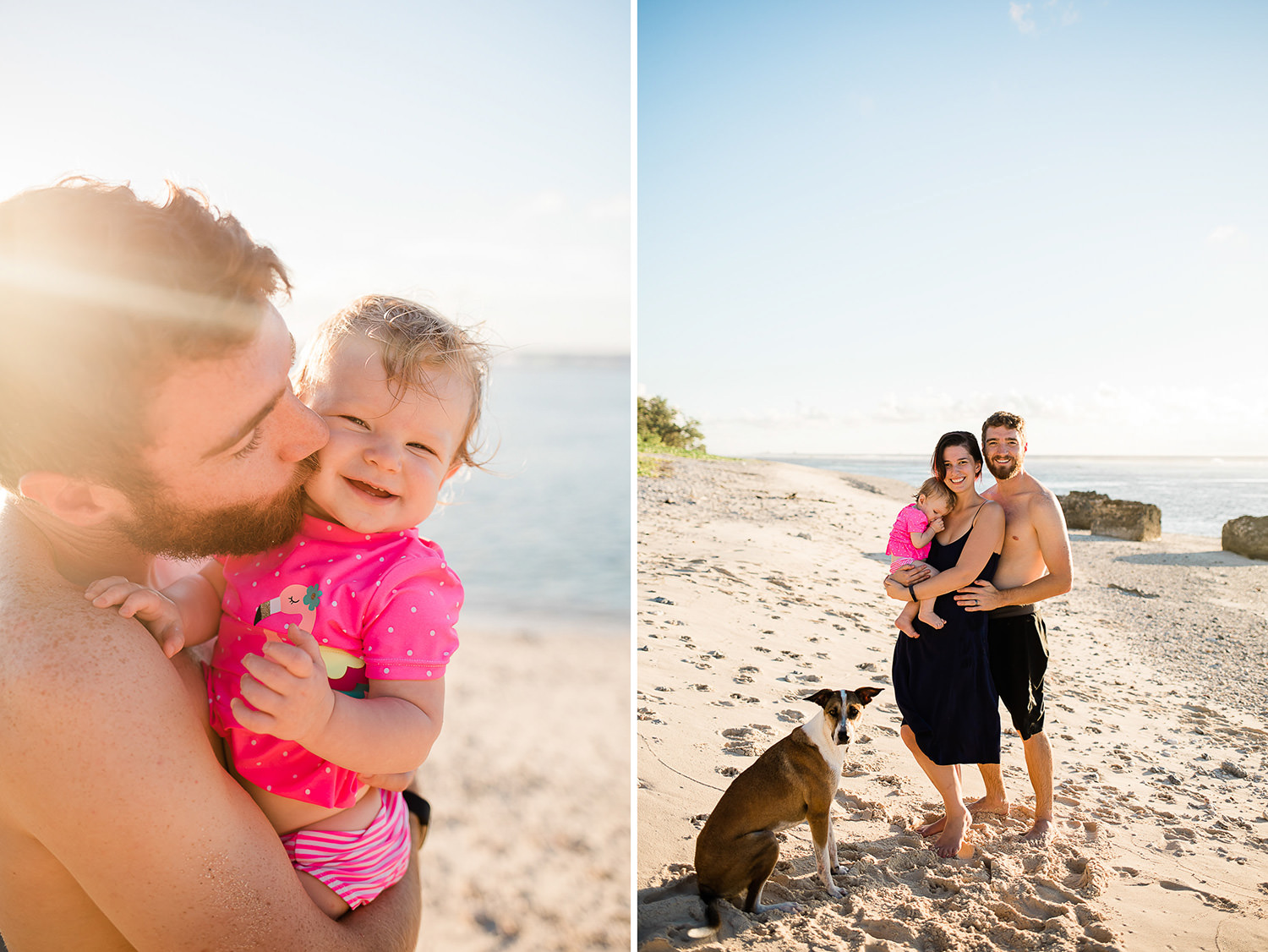 It's been the longest and shortest year of our lives, and I have no idea how that can be. It seems like just yesterday I was watching Matt play the guitar and sing you to sleep as you rocked in your swing. Now you're demanding that he plays to you while you play your uke.
You are smart, kind, sweet, sneaky, determined, playful, beautiful, and most importantly loved.
Matt and I love you more than you will ever know, and we'll never stop showing you that.
Happy first birthday, baby.