A classic car engagement session in the heart of downtown Kansas City.
As a Kansas City engagement photographer, I've explored endless romantic locations for photo sessions and met countless incredible couples. Sometimes the locations are the standout of a session. As much as I love that, I've found even more love when couples steal the spotlight.  But every now and then, a location, idea, and a couple fit together so flawlessly that it feels like magic! Simply take a quick glance at Leisha and Gavin's classic car engagement photos! You'll without a doubt agree that a rooftop was one of those perfect locations!
When Leisha reached out, I searched all over Kansas City for the perfect location for a classic car engagement session.
I knew right away that I had to bring a gorgeous couple and my camera to a rooftop downtown ASAP. Enter Leisha and Gavin, along with RND KC! Because they mentioned they were looking for a city vibe for their classic car engagement photos, I knew Union Station was just the spot! Their enchanting personalities were perfectly showcased by the adventurous and spontaneous vibe of the classic car!
Their sophisticated white wardrobe balanced against the bright red 1965 Plymouth Satellite made every single one of the classic car engagement photos truly pop. Surprisingly, it felt like it was meant to be! Generally, when planning your engagement session, you'll want to be sure to find a vibe that fits your love story. For this couple, I cannot envision anything else but this!
But what is most incredible about this pair is unquestionably the love they have for each other.
Each time I asked them to snuggle up, the romance was off the charts! By the time the session ended, I knew it was going to be hard to cull any of their photos. These two are so in love, and I can't wait until the day their love story becomes a Happily Ever After.
Leisha told me before our session that they were really looking forward to seeing their vision for the classic car engagement come to life. Thanks to our astonishing location, it wasn't difficult to deliver! There are countless locations in downtown Kansas City. When she asked for a city vibe, I knew the streets of downtown were just not enough.
The freedom of being able to move the car around gave the whole session an effortless feel. All things considered, there was one concern – navigating cars in the background. But thanks to my magical Photoshop skills, these classic car engagement photos feel even more intimate.
But let's be honest: how could the images be anything less than charming and sincere with a pair like this one in front of the lens? Finding the perfect spot to take engagement photos isn't always easy, but you better believe I'll be returning to this rooftop over and over again! Until then, I'll be on the hunt for even more locations for classic car engagement photos in Kansas City.
Congratulations, Leisha and Gavin on your engagement. As much as I loved our time together, I hope your big day is just as lovely as your engagement session!
Are you planning a wedding of your own and searching for the perfect engagement photographer? I'd love to get to know you and chat about how we can fill a gallery with the engagement photos of your dreams!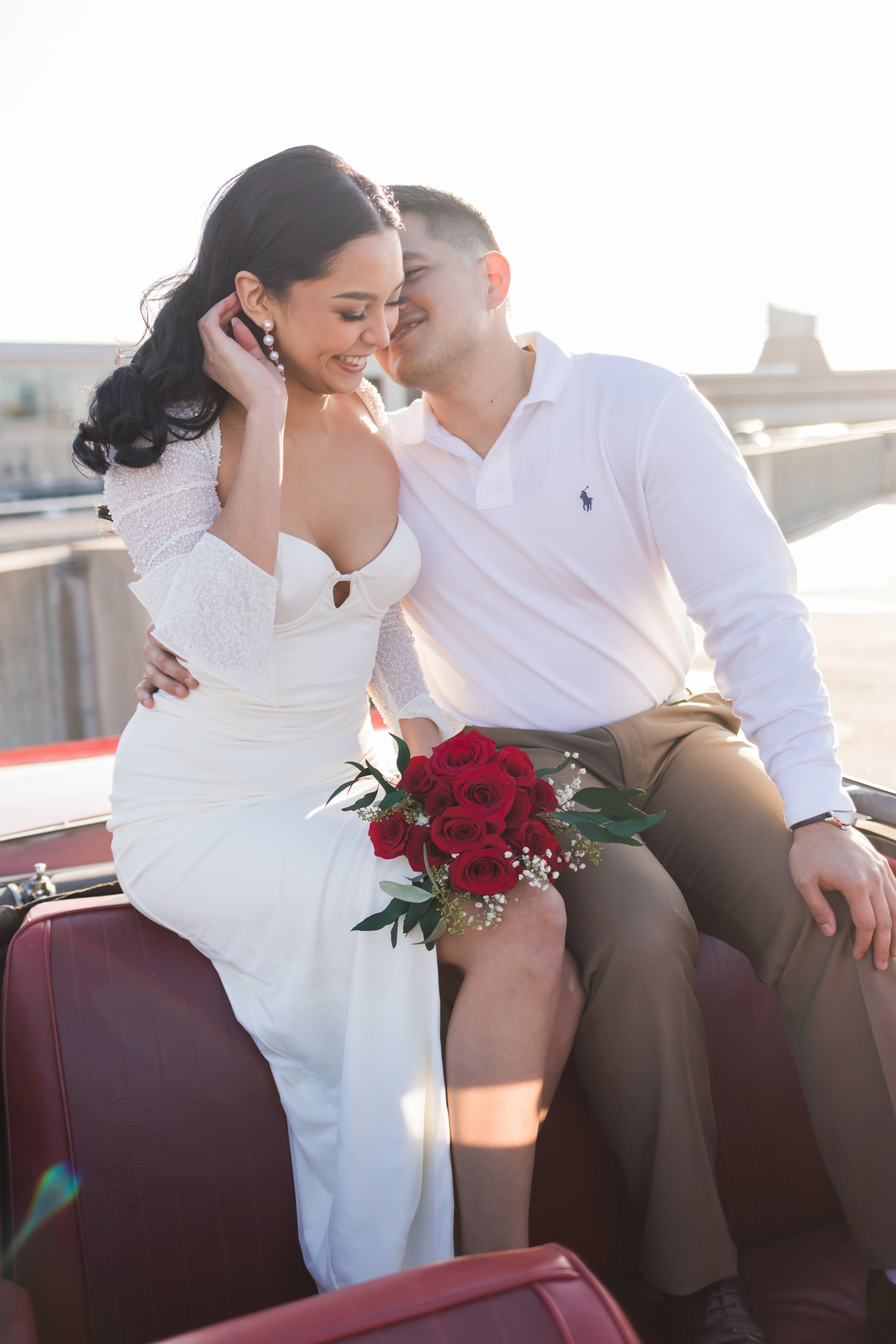 As much as I love this classic car engagement session, it may not be your exact style.
For that reason, be sure to check out A Picnic Engagement Session Downtown Kansas City for even more inspiration!