Broc and Lila's Catholic wedding was truly a dream.
Planning a Catholic wedding in your hometown can be one that you've looked forward to your entire relationship. Before I share with you this beautiful day, let me give you a little back story on the couple.
After both attending the same high school, they both left the island of Saipan for Hawaii to start their life together.
Shortly after, these two made the move to San Diego where they truly fell in love.
They were away for nearly ten years living their lives in the big city. When they decided to visit their family and friends back home. While on their vacation, Broc had planned a special surprise. He got down on one knee to ask Lila to be his, with friends and family surrounding them and cheering them on.
There is something so special about planning a wedding in your hometown.
Broc and Lila chose to have their Catholic wedding in a beautiful church on the island of Saipan. The details of their Catholic wedding were beyond beautiful, but the emotional moments of their day are what is so memorable. From getting the bride's mother crying as she meets her in the aisle to champagne wars with the wedding party.
Broc and Lila proved that having a Catholic wedding does not have to be boring.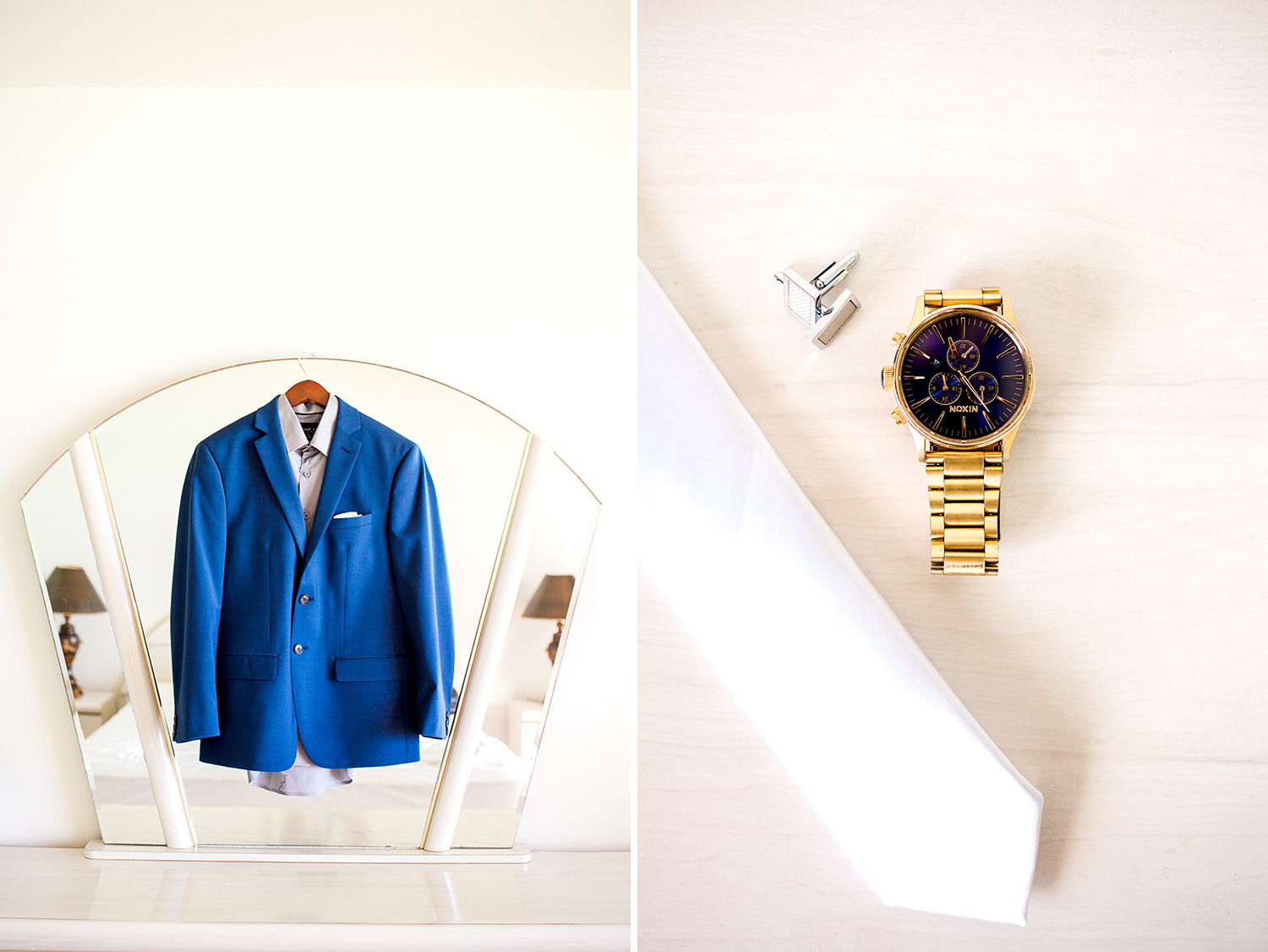 Personalized gifts for your wedding party are always a must! The groomsmen carried these personalized flasks with them all day.
Broc and Lila chose their colors to be Navy and Blush. Every detail was within their color scheme, right down to the groom and groomsmen's awesome socks!
Getting ready at separate venues may be your only option with a Catholic wedding. This does not have to be daunting!
If you're not planning a first look, this ensures you won't see each other before you walk down the aisle.
The custom flower girls' dresses made this Catholic wedding pop even more! Everyone looked their best as they walked down the aisle.
The Christmas trees from the church were such a great nod to the holiday season around them. The lights made the love and connection in this Catholic even more magical!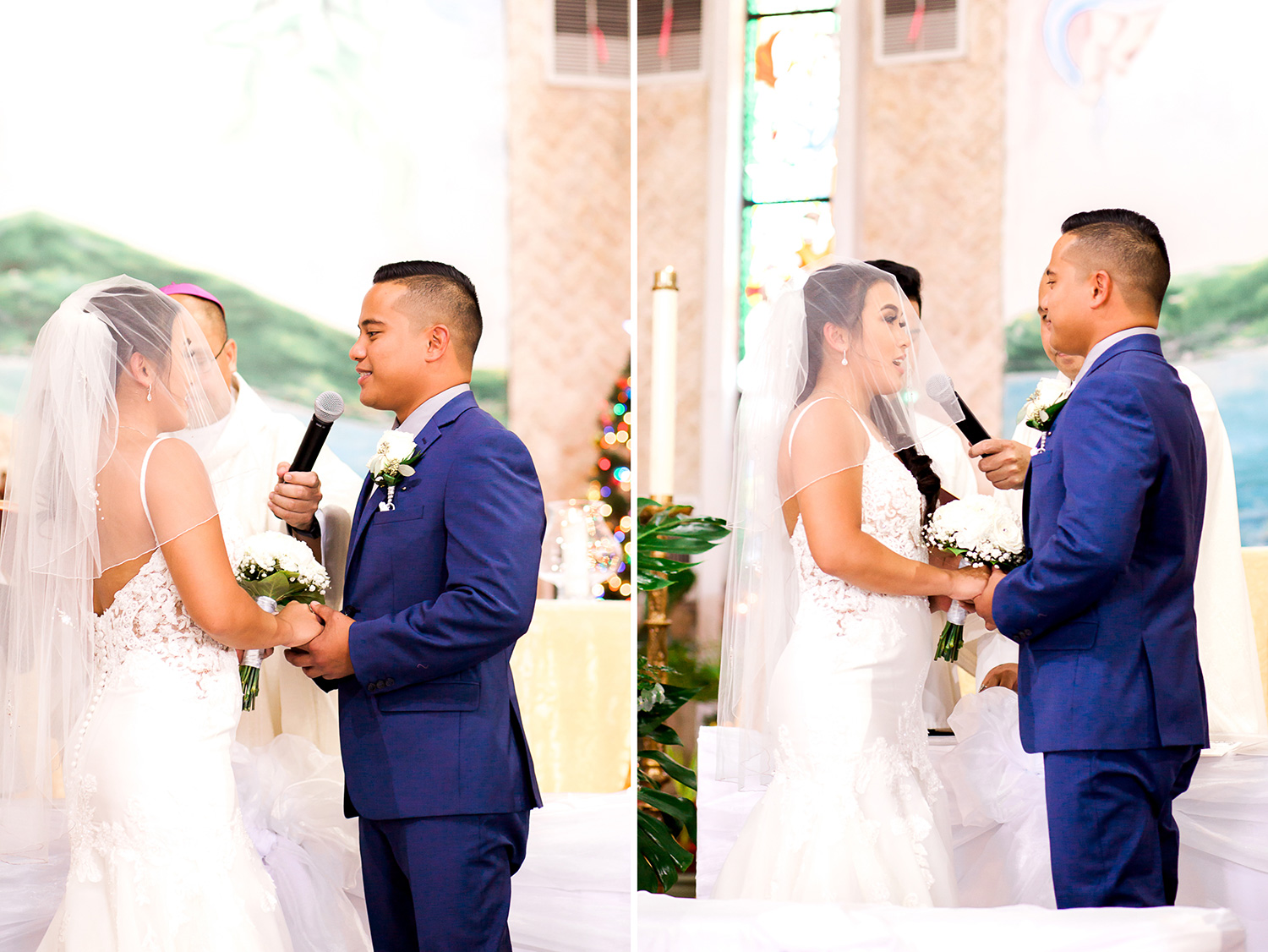 Officially husband and wife!
When you're planning a Catholic wedding, you may want to add in a few portrait locations outside of the church. Broc and Lila chose to have their wedding portraits in a local park that was only five minutes away!
Champagne wars! Who do you think opened the bottle better – Team Bride or Team Groom?
And now the party begins!

I always get super sappy when it comes to the toasts. Friends and family taking time to write and speak their love and excitement for the bride and groom are so tear-jerking. And then if you follow it up with the first dance I'll be crying all night.
What a night this truly was! Thank you so much to Broc and Lila for trusting in me to document your big day! And a huge thank you to all of the vendors involved!
Photography: Lauren Benson Photography
Venues: Kristo Rai Church, Surf Club Saipan, Pacific Islands Club
Gown: Martina Liana
Bridesmaids Gowns: Azazie
Flower Girl Dresses: Pena House Boutique and Salon
Makeup Artist: Divana Dela Cruz
Hair Stylist: Venus Grenio with Natural Nail Spa